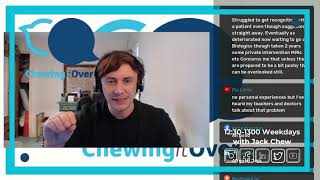 The second of my Rheumatology takeovers is here, on tuesday I jumped on a livestream to discuss Rheumatology, Covid-19 and their relation as triggers. This is complicated and I don't think we know...
read more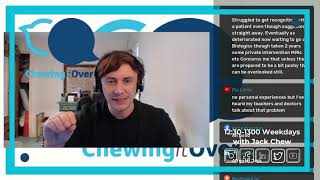 Jack March is here for what will be the first of the Rheumatology TakeOvers a regular segment commenting on Rheumatology topics as they relate to the MSK world. Today he discusses delay to diagnosis...
read more
AWESOME NEWS. RheumMates is back! The aim is to get to Monthly RheumMates recordings... Polymyalgia Rheumatica is tricky and primarily managed in primary care, Professor Dasgupta is AMAZING, he has...
read more
I wanted to do something a little different in this blog which looks back at some different things I have learned in Rheumatology but also what I have learned about messaging and promotion which I...
read more
I think this is the most common question I have been asked over the last few years since I started to be more vocal about Rheumatology Conditions. I used to answer it as best I could but always...
read more
I have been meaning to update this blog for a little while and last blogs legend Claire Paling has nudged me into it. We have the return of the now recurrent features "legend of the blog" and all...
read more
Naturally as Polymyalgia Rheumatica had some exposure over social media, Giant Cell Arteritis came to the surface as well. In this blog we will go over the BSR guidance for this condition and...
read more
A new approach this week in a couple of different ways, I am adding two new features, "Legend of the Blog" and if you scroll all the way to the bottom you can listen to the music I was listening to...
read more
Thank you to @TaiwanOzPhysio for bringing a paper to my attention which is used as the basis for this blog post (see reference at the end). Clearly recognising rheumatology conditions is of interest...
read more
Starting with some Thanks for this blog. Thank you to Professor Bhaskar Dasgupta who ran a brilliant webinar (25/11/2020) on Polymyalgia Rheumatica (PMR). Find more out about him here. There was so much contained in 45 minutes and I have tried to condense it down to the applicable information for us MSK therapists.
read more
I have for a long time avoided this subject and I have decided to finally try and include this in my repertoire as the number of questions continues to increase. This is certainly an evolving area...
read more
As we move forwards in medicine with the understanding of Spondyloarthritis, some things are becoming more complex and others more simple. (I say we, I have nothing to do with it, it's the amazing...
read more
On Friday 09/10/2020 I am attended a webinar by ARMA all about AxSpA in Women and how it differs to the condition in Men. This blog will attempt at summarising the differences and clinical...
read more
Its not that often that a paper comes along that changes my practice but this particular one will. I have known for a number of years that Rheumatoid Arthritis patients are at risk of muscle loss...
read more
Rheumatoid Arthritis is a complex disease, diet is a complex phenomenon. Their interaction is inevitably also complex. Over the years I have heard as many types of dietary advice for RA as I have...
read more
I lost the old page that had the Recognisning Rheumatoid Arthritis Document on it. Here is a replacement. This document helps you with recognition and guides you on what to do next, this has proven...
read more
No Results Found
The page you requested could not be found. Try refining your search, or use the navigation above to locate the post.