Welcome back to the blog, this week we have the livestream takeover which was recorded before the release of the Sjogrens Syndrome blog last week. I go into detail about how to incorporate none MSK...
read more
Welcome back to the blog! I decided to run a poll on what to publish this week and the results are in! Reactive Arthritis just edged out Sjogrens Syndrome so we will get to that next time. Reactive...
read more
Welcome back to the blog! I have been producing video content recently so I wanted to direct you all to them and I hope that you enjoy! First we have a video on Exercise prescription for Rheumatoid...
read more
Welcome back to the blog! Another Livestream as on 12/03/21 it was my turn to takeover the ChewingItOver show! I answer some questions that were left over from my talk at TherapyLive Pelvic Health...
read more
Welcome back to the blog! A change of pace from recognition this month as we look at actually treating/managing/rehabbing! Exercise is a vital component of Rheumatoid Arthritis management and...
read more
Welcome back to the blog! The first Rheumatology Quiz went down an absolute storm so here we are with the second! Don't forget to share your score... The recurrent features are back with legend of...
read more
And we are back! RheumMates is fast becoming my passion project speaking to these amazingly cool clinicians in Rheumatology. This month I am joined by Mike Dare and we had the absolute pleasure of...
read more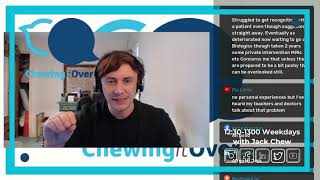 The second of my Rheumatology takeovers is here, on tuesday I jumped on a livestream to discuss Rheumatology, Covid-19 and their relation as triggers. This is complicated and I don't think we know...
read more
We are back, another week, another blog. I have been thinking this week about Rheumatology and its place in the hearts and minds of MSK Therapists. While I was thinking about this I found the start...
read more
Welcome back to the blog! In the spirit of new things and fun, this week we have a quiz! I will do a series of these where they will get harder and more interesting. See if we can't challenge you...
read more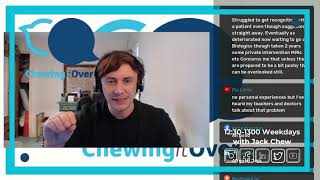 Jack March is here for what will be the first of the Rheumatology TakeOvers a regular segment commenting on Rheumatology topics as they relate to the MSK world. Today he discusses delay to diagnosis...
read more
AWESOME NEWS. RheumMates is back! The aim is to get to Monthly RheumMates recordings... Polymyalgia Rheumatica is tricky and primarily managed in primary care, Professor Dasgupta is AMAZING, he has...
read more
I wanted to do something a little different in this blog which looks back at some different things I have learned in Rheumatology but also what I have learned about messaging and promotion which I...
read more
A new approach this week in a couple of different ways, I am adding two new features, "Legend of the Blog" and if you scroll all the way to the bottom you can listen to the music I was listening to...
read more
Thank you to @TaiwanOzPhysio for bringing a paper to my attention which is used as the basis for this blog post (see reference at the end). Clearly recognising rheumatology conditions is of interest...
read more
Starting with some Thanks for this blog. Thank you to Professor Bhaskar Dasgupta who ran a brilliant webinar (25/11/2020) on Polymyalgia Rheumatica (PMR). Find more out about him here. There was so much contained in 45 minutes and I have tried to condense it down to the applicable information for us MSK therapists.
read more
No Results Found
The page you requested could not be found. Try refining your search, or use the navigation above to locate the post.